The EIA report on Ohio's Utica Shale was about as bullish as any governmental publication I've ever read. The
report
issued Monday found that production from the Utica region in eastern Ohio increased by more than 10 times over the last two years, from 115 million cubic feet per day in 2012 to an estimated 1.3 billion cubic feet per day by September 2014. The Utica also produces about 40,000 barrels of oil per day but essentially wet gas production is driving the boom. To put the production data in perspective, 1 billion cubic feet of natural gas will heat from 10,000 to 11,000 homes for one year.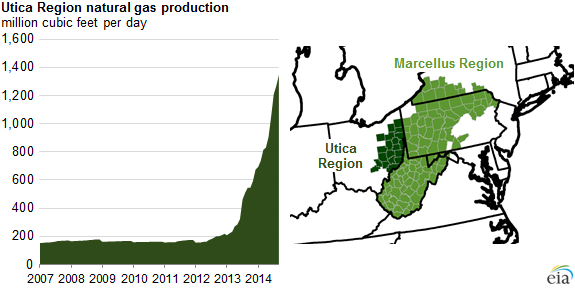 Savor the slope of that production curve! This is what an energy boom looks like! The report confirms my contention that the lack of midstream infrastructure has slowed production growth.
"Utica Region natural gas production growth was constrained before July 2013 because of limited natural gas processing capacity in the area. As a number of processing plants have been built and brought into service over the past year, more natural gas is being gathered from wells and processed to meet pipeline specifications, allowing the gas to flow on interstate pipelines."
Related to the infrastructure build out last week Aubrey McClendon's American Energy Partners
announced
that its midstream wing would joint venture with Regency Energy Partners LP to build a 52-mile, 36-inch gathering trunkline that will be capable of delivering up to 2.1 billion feet per day to Rockies Express Pipeline and Texas Eastern Transmission on the southern end of the line. Additionally, there is the potential to connect to the interstate grid on the northern end of the trunkline which would increase overall system capacity to 3.5 Bcf/day. The project will also consist of the construction of 25,000 horsepower of compression at the REX interconnect. The full project is expected to be completed in the third quarter of next year. That little project will cost about $500 million.
In other words you ain' t seen nothing yet. Daily production is now 1.3 Bcf/day but one company is building capacity to deliver 3.5 Bcf/day.