In spite of the media's best intentions to score last night's debate victory for Hillary the real winner was Donald Trump. If supposedly, as the the Democrats and the media posit, Hillary has turned around her campaign where is she tonight?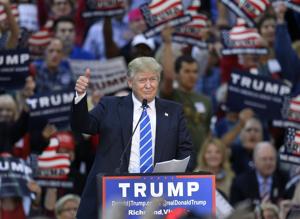 Donald Trump was holding a rally at the Richmond International Raceway which Erin Burnett cut to frequently before interviewing daughter Ivanka Trump. But there were enough Trump siblings to go around. Almost simultaneously Greta Van Susteren was interviewing son Eric Trump. Think of it. Three of the five members of the Trump family are on cable news at the same time and no one sees Bill or Hillary. If the social media is figured into the mix Trump only pads his lead.
During the debate Trump upped his Twitter following by 147,169 to 4.57 million surpassing Hillary's 4.48 million as the Donald critiqued the debate. Hillary did pick up 25,475 new followers but Bernie Sander bested her there with 42,730 new followers. Even Lincoln Chafee got 22,200 new followers. On Facebook Trump gained 16,248 new subscribers easily beating Hillary who got 7,723.